Ya estoy de vuelta después de unos
días de intenso frio, largas conferencias, charlas e importantes reuniones, todo ello en un ambiente bastante masculino, la verdad. Sin embargo me ha hecho pensar en el básico entre los básicos, tanto para mujeres como para hombres, creo que es la prenda más versatil que existe, más socorrida y más usada. No es otra que la eterna camisa blanca. Desde que naces te ponen la camisita blanca de tela, sigues con ella en el uniforme del colegio, en invierno bajo tu cardigan preferido, en verano de gasa y manga corta, o extra larga para ir la playa, impecable para tu primera entrevista de trabajo, la compra fácil cuando no estás inspirada, la de tu novio al levantarte al más puro estilo Carrie en SATC...
I am back after days of intense cold, long conferences, speeches and important meetings, all this in a very male atmosphere. But this has made me think about the basic of basics, for men or women, I think it is the most versatile and worn garment. It is of course the eternal white shirt. Since we are born we are wearing little cotton white shirts, then as part of the school uniform, in winter under our favourite cardigan, chiffon in summer, extra long to got the beach, impeccable in our first job interview, the easiest purchase when we're not inspired, our boyfriend's after getting up as seen on Carrie in SATC...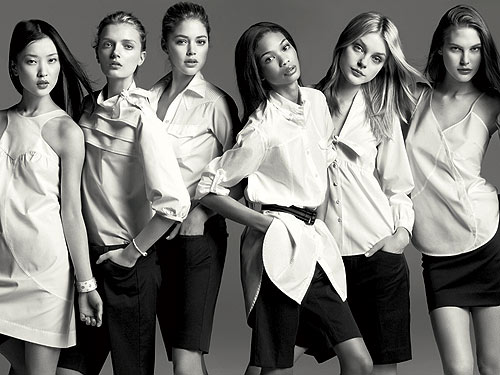 Estás pensando ahora mismo cómo ponerte la que tienes en el armario aburrida desde hace tiempo? tienes pensado comprarte una en tu próxima día de compras? pues toma nota de los 10 must knows sobre la camisa blanca:
Are you thinking about how to combine the one you have "bored" in the wardrobe? have you planned to buy a new one soon? then note down the 10 must knows about the white shirt:
1. Empieza por una

clásica

pero con un toque masculino por ejemplo, con doble botón en el puño.
Start with a classic cut but with a masculine detail, i.e. with double cuff.

I love the detail of small pearls on the shoulders in this first of Tranquila cosita
2. Intenta que la tela tenga una cierta calidad, evita las sintéticas brillantes.
Try a certain

quality texture

fabric, avoid shiny synthetics.
3. Opta por un corte entallado y un poco elástico, te sentará mejor y estarás más cómoda.
Go for a

slim-cut

with slight stretch, will fit you better and mean you feel more comfortable
4. Para un look más

sexy

, que la tela tenga caída y sueltate un par de botones (sin llegar al extremo!)
To get a sexy look, choose a slightly drapey fabric and leave the top two buttons undone (but don't go the extrem!)
5. Métete

la camisa por dentro

si llevas falda o shorts y por fuera si llevas pitillos.
Tuck your shirt into the skirts or shorts and leave it out over slim pants.
6. La combinación más cool y siempre impecable: camisa blanca + vaqueros desgastados y cinturón chic.
The most cool combination and always impeccable: white shirt +

rugged jeans

+ chunky belt.
7. Llévala con

pantalones anchos

y taconazos, dale el toque femenino con unos buenos accesorios (clutch, collar babero, sombrero...)
Wear it with wide pants and high-heeled shoes, give the femenine touch with hot red lips and nice accessories (clutch, bib necklace, hat...)
8. Consigue el look más lady con una falda tubo negra.
Get the

lady look

with a black slim skirt.
9. Róbale a tu novio la suya y póntela con shorts o cinturón fino en verano y leggings en invierno.
Steal your

boyfriend's

and wear it with shorts or slim belt in summer and leggings in winter.
10. Házle un

nudo

para un look más casual y vintage.
Tie a knot in the bottom part for a casual and more vintage outfit.
Vosotras a qué, cómo yo, tenéis más de una en el armario?
I guess you, as I do, have more than one in your wardrobe!
FOTOS/PICTURES: vanessa jackman, altamira NYC, wow.ie, project betway, tranquila cosita, posh24, dailymail.co.uk, trendstatic-ny, thingsdoucheydudelike, brisbanenetnews, style news, the gloss, ispyfashion, my daily style, moda adriana diaz, jen fitch style.